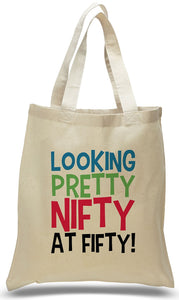 Looking Pretty Nifty at 50! Birthday Tote made of all cotton canvas will surely get a smile and be a memorable keepsake for many years.  
Retailers! This is an ideal retail stock item for a party store or gift shop.  
Product Details
Material 100% Cotton Canvas Natural Color
Same Fabric Handles 20"l
Size: 15"w x 16"l
Imprint Area: 8"w x 10"h
Weight: 6 Ounces
Since these totes are printed to order, please allow 5 business days for production.

There is no minimum purchase or maximum limited quantity on any of our products. For orders over 1000 pieces please contact Customer Service directly at 1-888-387-1181 Monday - Friday 9 am - 5 pm EST.