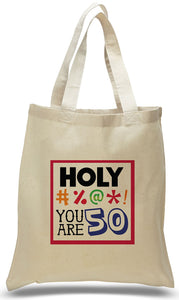 Surprise a friend or family member turning the big 5-0 with these light hearted party favor bags.  Great for carrying party supplies, being used as a gift bag, or as a party favor, your friends will give a chuckle every time they reuse this cotton canvas tote!
Retailers!  This is an ideal retail stock item for a party store or gift shop.  
Product Details
Material: 100% Cotton Canvas Natural Color
Same Fabric Handles
Size: 15"w x 16"h
Imprint Area: 8"w x 10"h
Weight: 6 Ounces
Since these totes are printed to order, please allow 5 business days for production. 

There is no minimum purchase or maximum limited quantity on any of our products. For orders over 1000 pieces please contact Customer Service directly at 1-888-387-1181 Monday - Friday 9 am - 5 pm EST.